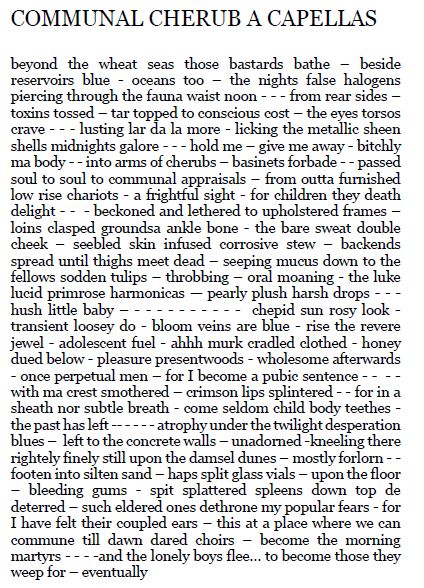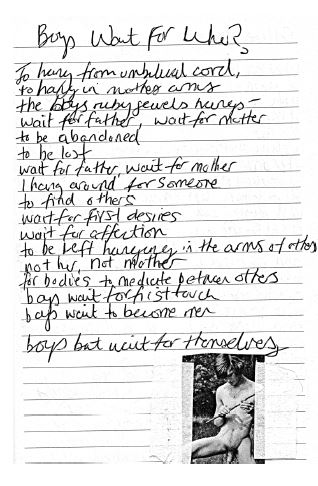 Debut poetry collection featuring forty-two poems exploring tribulations and isolations of masculinity within the South Essex landscape.
'to where the younglings go, of beaten sights to river flows , thata where the abandoned babes hide, they reside, cry to minds woes lullaby'
Pubescent Plumes
(2018) is an annotated collection of poetry concerning a young man's account of developing yearns and conflicts in seeking affection. These ballads dedicated for the dissipated yet determined youth, expose the often disguised events of adolescence, exploring tribulations such as addiction, sexuality, intimacy, body-image, isolation, and masculinity, within the stoic sectors of South Essex. Within a confusing post-realistic narrative, ever changing between intensity through a verbose and fragmented language, we at once enter the multitudes yet problematic vantage points of perceiving both the abandoned, abused or adorned, and witness scenes sung before us. This work attempts to take us on the pursuit of a journey via a private and immediate deploy of one's conscious need to seek refuge within a susceptible and desolate surroundings.
Pubescent Plumes#2 Author
George Morl
Details
Published by Orange Orient, 14 July 2018
Paperback
Edition (300)
180 pages
12.5 x 19.5 (cm)
Status: In Stock (
Contact for availability)
💰 £FREE
🚚 £1.50
Dedicated Dose #3
In Orange Orient Books Series
Keywords
Body-image, Masculinity, Post-Industry, Working Class, Loneliness, Isolation, Suicide, Sexuality, Basildon, Essex, Southend, Youth, Addiction, Poetry
Pubescent Plumes#2 (Extracts)
© Orange Orient Books
Text & Image © George Morl 2020