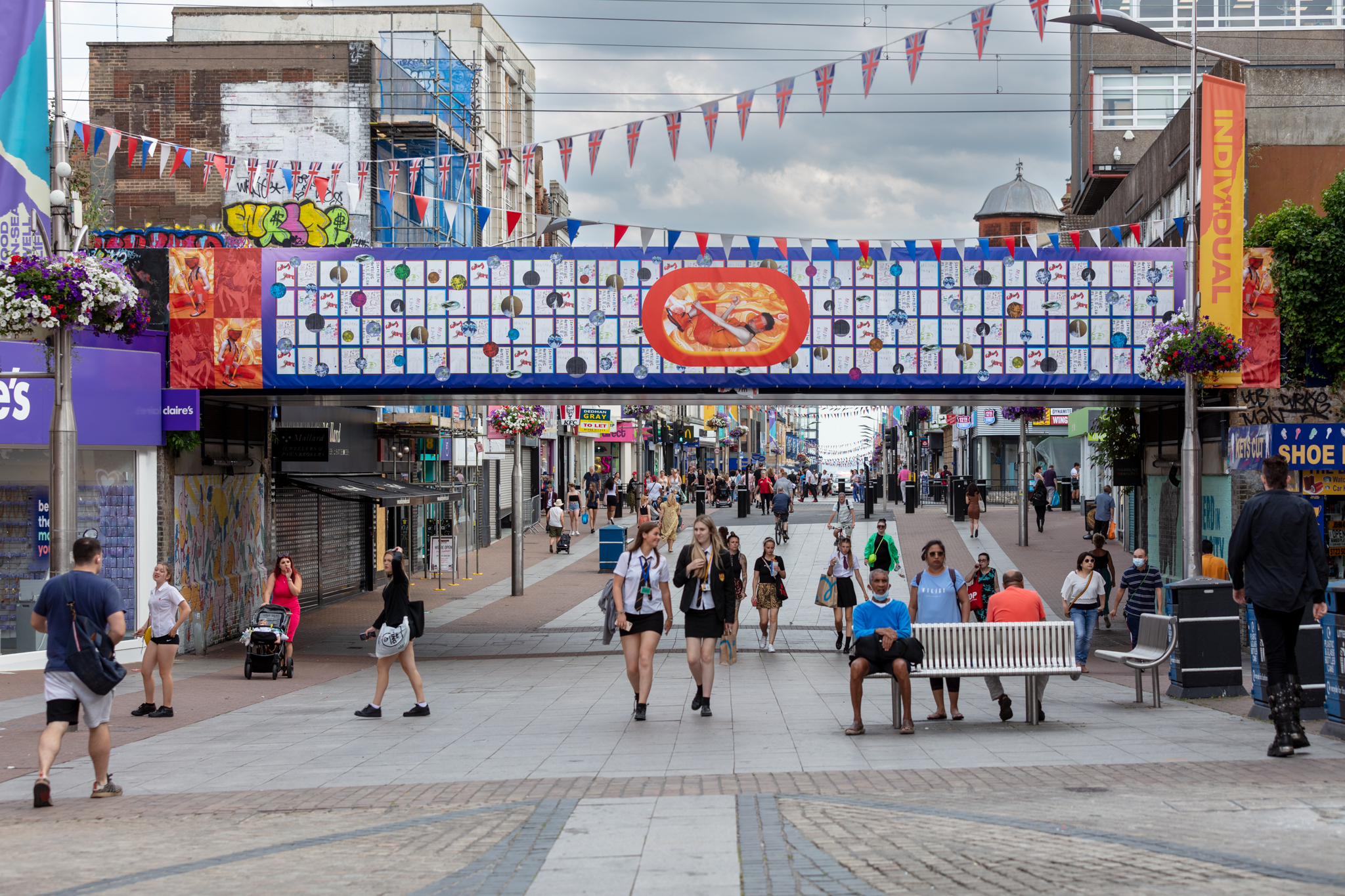 Essex @way from keyboard?
2022
WORK
Essex @way from keyboard?



DATE


2022



MEDIUM


Digital collage on vinyl



DIMENSIONS


16705mm (L) x 2115mm (H)
COMMISSION


Focal Point Gallery
︎ Summary
Focal Point Gallery is pleased to present a new temporary public artwork by Essex-based artist George Morl with Elm Class of Nancealverne School in Penzance, consisting of two new site-specific works for the annual railway bridge commission on Southend High Street.
Reflecting on 100 years of radio broadcasting in the county and Southend becoming a 'Gigabit City', 'ESSEX @WAY from keyboard?' is a digital collage that illustrates the importance of communication devices and online communities for disabled and neurodivergent people. The artwork is configured in the style of a keyboard adapted for those with learning disabilities and for computer gaming. It is is made up of several images, including computer graphics, artworks by students, and a series of portraits of the artist as a digital avatar directed by the students reflecting on comic and sci-fi characters. Referencing the journey and visual motifs in the postcard works of artist Madge Gill (1882-1961), gaming culture and diversification of communication technologies, the commission considers how virtual worlds can be viewed as an alternative form of migration. This is in stark contrast to the artists' research into the forcible movement of disabled people in early 1900's in South Essex, with individuals now utilising online spaces for autonomy against the colonial legacies of networks.
Taken from the term 'away from keyboard (AFK)', which refers to a computer user who has temporarily left interaction with the virtual world, the commission highlights the contemporary alternative pilgrimage of uploading oneself online as a disabled and queer person to connect through networks that have evolved from Essex. From the discovery and development of electricity, radio and radar, fibre optic cables, these technologies have facilitated several key milestones that have created alternative possibilities for communication and connection, particularly for communities facing societal barriers. Through the parallels of technological innovation such as Marconi's experiments and the first wireless radio transmissions in Essex and Cornwall where the students live, this project reflects on the possibilities and complexities of international networks.
The commission will coincide with the daily screening of a new video work, 'Profiles from Essex', on Big Screen Southend. This emerges from research gathered by Morl as part of
'New Histories'
, a pilot project with East Contemporary Visual Art Network (ECVAN) and funded by Arts Council England to explore new regional histories from diverse communities across the East of England. Workshop images from this artwork were made as part of a project with students from Elm Class, Nancealverne School since 2021 through the Jerwood Newlyn Residency with Newlyn Art Gallery & The Exchange in Cornwall. Following the public display in Southend, the artwork will tour down to Nancealverne School, Penzance in October 2022.
Further information about the research and context that have influenced this commission can be found here.
Commissioned by Focal Point Gallery
︎ Assosiated Awards
Focal Point Gallery: Railway Bridge Commission, 2022
New Histories,
2022
© George Morl 2022
Photography Anna Lukala